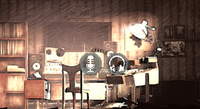 The Transmitter is a pre-built station in The Last Broadcast DLC. It can only be used by Malik, who can broadcast information that Esma gathers in her scavenges. The transceiver can be used to listen to the radio waves for other information, which sometimes includes thank-yous from various people for things that Malik has broadcast.
There are twenty-six transmissions, though not all are story-relevant.
After all three choices are made, the Transmitter is destroyed and the game's ultimate goal is to repair it, creating the Fixed Transmitter, which can only be done by finding the Transmitter Parts.