Special Events are variant types of events that occur in the game.
Events which affect the crime or weather of Pogoren.
Many hardships ensue in the Winter, which can make Survival very difficult. The season is announced several days before it starts by a noticeable Temperature Drop and Radio-Broadcasts on the Weather-Channel.
During Winter:
Winter has passed and Temperatures will begin to rise again within 1 - 4 days from this day onward.
The crime rate escalates rapidly in the city and the chance for 
Raids
 to happen at night is vastly increased. Raiders are also more vicious than usual. The event begins with a different transition-picture and "Outbreak of Crime" written below.
No Raids occur for 2 days, then the chances return to the moderate danger level.
The 
Radio
-Stations inform Survivors about several 
Special Events
up to 7 days prior to their happening.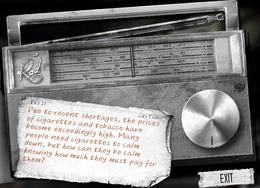 All Canon Events are predicted ahead of time, both News-Stations cover The Outbreak of Crime and the approaching Winter is announced early on the Weather-Channel.
Shortages of Cigarettes, Coffee & Vegetables are also announced ahead of time. It is advisable to prioritize the production or purchase of soon to be valuable Goods.
News-Stations can predict an increase in fighting between the military and the rebels. Some Locations will be inaccessible soon, so get what you need beforehand.
Approximately one week before the ceasefire day dawns, the News-Stations will report that Peacekeeping-Services are on their way to put an end to the civil war.
Variants of a given event can occur in many locations. Most of them require the player's night scavenger to aid the NPCs of a particular event. Helping an NPC raises the morale of your group, while ignoring them lowers it.
List of locations which have events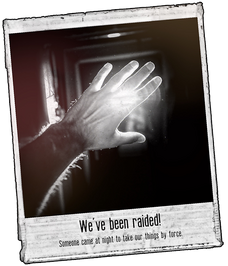 Raids
are events that occur during the night at 
Our Shelter
. Scavengers, bandits, and robbers come and take supplies by force. Survivors are not only robbed of valuable items, but can also be 
wounded
. If the survivors are unable to defend against the raids, they will become
Sad
or
Depressed
.
Players can defend against raids through various methods:
Neighbor events are events that occur when a neighbor randomly shows up around 10-11 AM at Our Shelter and will request help or ask for items. Agreeing to help them boosts survivors' morale (in most cases).
Like Murder and Theft, Neighbors events have an impact on character's ending, which shows in the Epilogue.
Recruitment
On certain days, Playable Characters will show up at 10 AM and ask to join the group. Which day this event occurs on often depends on the starting group - most of the time, the new character will show up on Day 17 or 18. For custom scenarios, a new character will usually show up on Day 7 or 8.
Players can change the joining character by exiting to the main menu and reloading the game.
Franko is a traveling Trader that visits Our Shelter approximately every 3 days. His prices are rather steep, but he is the safest trading option.
Community content is available under
CC-BY-SA
unless otherwise noted.