"
Having something to occupy time is important. A guitar can brighten up our mood, especially if the person playing it knows what they are doing.
"

–Item Description
Overview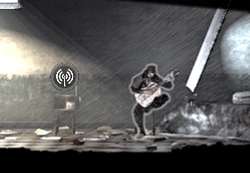 The Guitar is a Household Item in This War of Mine.
If a Broken Guitar is acquired, then it can be repaired at an Improved Workshop. It is useful for removing depression states and keeping morale high in the player's group. To receive the moral boost it must be used by a character who can play it decently.
Usage
Zlata is the best character for guitar playing as she studied at the Music Academy before the war broke out.
Roman and Katia plays guitar admirably, only slightly shy of Zlata. Arica and Pavle plays guitar decently, although being less proficient than the characters above. The remaining characters do not know how to play guitar at all. Children cannot play, nor even learn guitar at all.
Broken Guitar
"
It's broken, but not beyond repair. It would be cool to pass the time with nice music.
"

–Item Description

The Broken Guitar is a Material category item in This War of Mine. It is typically found inside locked containers or areas that require tools to access. It can be repaired at an Improved Workshop to make a fully functional Guitar.
Repair Cost
Guitar Repair Cost

| Builder | | | | |
| --- | --- | --- | --- | --- |
| Marin | 4 | 8 | 2 | 1 |
| Other | 5 | 10 | 2 | 1 |
Locations of Broken Guitars
Notes
Playing the Guitar will replace the background music and radio music for as long as the guitar is played. The original background music will resume immediately once you stopped playing.
Different ability groups of characters play different tunes in the guitar [e.g. Katia, Zlata and Roman play Thaw (a down tone melody) and Time Is Running out (a fast one)]
One of the songs played using the guitar is composed by a developer.
You can only make 1 guitar even if you have additional broken guitar. If you acquire addional guitars by modding the game, texts in Some Thoughts about guitar will be gone, and sound will mix when more people play them. The original background music will resumes when last guitarist quits playing.
Community content is available under
CC-BY-SA
unless otherwise noted.